Keep Calm
and
Throw a Grenade
About Me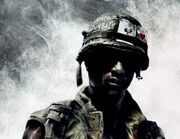 Platform: Xbox 360 S
Battlefield Game(s): Battlefield: Bad Company, Battlefield: Bad Company 2, Battlefield 1943 & Battlefield 3
Preferred Kit: Medic (Help your Squad!)
Favorite Weapons: BFBC2 = M1 Garand, BF3 = M16A3/A4.
I am, in every possible definiton, a Battlefield Fanboy. I've been fighting since '42 ! Hell, I even saw some action in Vietnam. Current playing Battlefield, waiting for new DLC.
Platoons
I, Anonymous Tom, am a member of multiple platoons. My Primary one being the Backpack Heroes Why is it named Back Pack Heroes? Because we have to carry the team. Trolololol. (Most of the time). However, I am currently looking for a Platoon/Squad dedicated to actually playing Battlefield on an average basis. Send me a PM on Battelog if you're interested or are in need of Medic that actually does his job.
Current Battlefield 3 Stats
You can check detailed Stats here, but I'll give you a quick rundown.
Current Rank: 63 - Colonel Service Star 18
Top 3 Weapons:
1: M16A3/A4 = 1100+ Kills
2. FAMAS = 570+ Kills
3. M416 = 530+ Kills
Current Favorite Weapon/Setup: M16A4 w/ Red dot, Foregrip & Lasersight.
Current Least Favorite Weapon: SVD = 5 kills. It's pretty terrible.
Medic stats: 2540+ Revives
Also if you want stats more detailed than Battelog, check out bf3stats.com
More to come.......