...In The Real World...
---
British and Proud
Right, well I suppose some of you may want to know a bit about me. My name's Tom, so feel free to call me that, or Bond, or BP, I don't mind.

I'm an 18 year old gay male from the UK. I can usually get online on weekday afternoons and evenings and on weekends (UK time of course), although I've now not got anything on for a few weeks, so it might be a bit random.
What do I do when I'm not hanging around here? I stand on street corners, drinking excessively and intimidating old people. That is, of course, a joke. I edit on Wikipedia (User:Highfields).
O'n.e Wa,rn,ing,;, I',ve, gai,ned qu,ite, a repu,tatio,n a'mong my peers', for my in'abi,lity to p,unctu;ate, espe;ciall,y wit;h com,mas, I try, my best, bu't if I, do any;thing wro;ng, please, corr;ect it, for me.?!',
...In Battlefield World...
---
Battlefield-wise, I have BF1942 and the Road to Rome expansion (for PC). I'd like to get others, BF1943 perhaps, but they're not a priority (due to lack of both time and cash).
...In Wikia World...
---
You may have noticed my rather bizarre choice of username. Actually, I don't like my username, but hey, that's what I picked. Why? I used to edit at (and was an admin on) a wiki (an independent site, not on Wikia) that was a James Bond encyclopaedia, called Bondpedia. Sadly it's now closed down (due to lack of funding), but James Bond is my real passion and I'd like to think the name equally applied to me, thanks to my comprehensive knowledge of the subject (just don't test me!).
I also have accounts on a few other Wikia wikis but I very, very rarely edit on them, and none of them are mainspace edits. I am, however, always open to new opportunities, so if you need help on another wiki and you think I could help, ask!
Just another mention, I maintain User:Wikia-angel and User:GeezerGuy as alternative Wikia accounts. I set them up for testing the auto-welcoming system and now occasionally use them for testing how various things work or appear for non-admins.
...On Battlefield Wiki...
---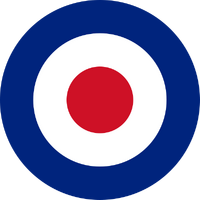 One of my older cousins was, until recently, in the RAF, with whom he did a 6 month tour of Afghanistan.

My grandfather also did his national service in the 1950s in the RAF...
I'm one of two active bureaucrats around and am a member of the highly experienced admin team here at Battlefield Wiki.

I tend to edit less in the mainspace than I would like, so you'll normally find me on community pages rather than actual articles as they're easier on flying visits between work and revision and what-not.

I am, however, a bit of an image copyright rottweiler. I like to make sure that all images are properly licensed and delete those that aren't, usually after hunting down and harassing whoever uploaded them to try and license as many as possible. If you get a message from me about image copyright, sorry if I sound scary or angry, I'm really not so feel free to ask for help.

I know a lot of editors have little lists of their Wikia friends on their userpage. I'd like to think the reason I don't is that it would be too long... Seriously though, there's no point. I hold no grudges against anyone for anything. Old and, especially, new editors can ask me anything about just about anything and I'll always do my best to get back to you as quickly and helpfully as possible.
I am also a firm believer that people who contribute to our wiki deserve praise and recognition for their work. I try as much as possible to stop by and say well done to those doing a particularly good job, and help out those who are not getting on so well. I also try to keep in regular contact with editors from all fields of the wiki, just to say hi and keep a positive, friendly relationship. But I can't talk to everyone, but rest assured, I constantly watch the Recent Changes feed, so if you are contributing, I will notice and get around to you eventually.
Awards...
---
Admin's Award
Admin since April 2008
Bureaucrat since Feb 2009

Veteran's Award
You're a true veteran of Battlefield Wiki, you've been on the wiki for over 2 years! Your the only one of the early admins who is still with the wiki. Well done! You deserve it. - DEathgod65, June 2010

User of the Month
July 2010
See nomination