OSEAN MARITIME DEFENSE FORCE CERES OCEAN COMMAND (CECOM)
Status: Semi-Active


DEathgod65 - OMDF (Contact)



Welcome, soldier!

---

| Communications Center · Xbox 360 · Blogposts · Contributions |

---
About me...

Yo! I'm DEathgod65, one of the Admins on the Wiki. My interests are mostly gaming and militaries. I mostly play Battlefield on the Xbox 360 now, but I am attempting to make a transition to PC gaming with Battlefield 3, if my PC can run it, I will pre-order the game for the PC instead of the Xbox 360. I currently have 5 Battlefield games : Battlefield Vietnam, 2, Bad Company, 1943 and Bad Company 2. If you want to game with me, my Xbox Live Gamertag is DEathGod65. (Not a big surprise eh?)
Games and other stuff...

I play mostly first person shooters like Call of Duty, Battlefield and Halo. But I also love the Ace Combat Series.

If you have noticed all the US Navy pictures everywhere, you'd probably guessed that I'm interested in navies. I'm fascinated by naval warfare and technology.
On the Wiki...

You'll usually find me editing articles on Battlefield 2, Battlefield Vietnam or commenting on blogposts. And mostly it'll either be me or Bondpedia who'll bug you if you do not license your images properly.
Awards
---
- The Editor's Award Awarded by Bondpedia on May 16, 2010.

- The Admin Award Admin since March 30, 2010

- User of The Month User of the Month, October 2010. Second UoTM on October 2011

- Veteran's Award

Congratulations!
With you now having been a continuous editor here for well over a year, it's my pleasure to return the favour and award you the Veteran's Award as the site's second-longest serving active editor
Well done and keep it up!
Bondpedia (Contact) [ ] 15:10, March 26, 2011 (UTC)

- Innovation Award

Congratulations, on behalf of the community, you're hereby awarded the Innovation Award

Well done and keep those great ideas coming!

Bondpedia (Contact) [ ] 20:48, September 27, 2011 (UTC)






Stuff
---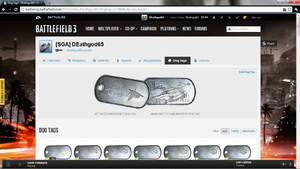 Battlefield: Bad Company Rank : General of the Army (25)
Battlefield 1943 Rank : Second Lieutenant Gold (30)
Battlefield: Bad Company 2 Rank : Captain III (36)
Battlefield 3 Rank : Colonel Service Star 1 (46)
My Battlelog profile : [1]