LITE992

It's a legitimate strategy.
Nickname(s)

Light, Leet (apparently is 1337)

Appearance(s)

Real life, Battlefield, Call of Duty, Halo, Team Fortress 2, Left 4 Dead, Need for Speed, Bayonetta

Rank

Below Admin

Affiliation

Team

Weapon(s)

SV98, M95, SVU, VSS, M416, AEK-971, SCAR-L, AKS-74u, T88 LMG, RPK, AK-47, M60, 40mm Shotgun Knife, any explosive, pen

Status

Alive
"Not a 'crazed gunman', I'm an assassin!"
— LITE992 on his job
About this user
Edit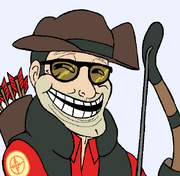 Welcome to my user page. You will usually find me on the Wiki, gaming, or hanging out in real life. You might see me go by in real life, but you probably wouldn't notice me. Back to the topic, I've liked Battlefield ever since I played BF2, but got some serious playing in when I got BC2. I play on the Xbox 360, my gamertag is LITE992.
Battlefield Strategy
Edit
I always play Rush. I don't like Conquest (too much running around the map for me). I prefer to take a support role, giving covering fire and spotting enemies for my teammates. You definitely want to spot as much as you can (but don't be spamming the spot button) so you can reveal the enemy's position so the rest of your team can mow him down, especially after you've died. I hate seeing people not spot their targets because they don't want their little kill stolen, especially Recons, who have a large view of the map. What I like about Battlefield is that it rewards good teamwork. Although I don't usually take the lead, I will if the moment calls for it.
My favorite Battlefield Moment was on Arica Harbor, on Rush as Defenders on March 31st, 2011 (specific much?). An enemy Humvee hit a friendly Engineer's mine, causing the Humvee to fly into and subsequently a sniper tower. Nobody was in the tower at the time, but if they were it would have been a million times better.
As Assault
Edit
I used to hate playing Assault, now I absolutely love it. Ever since I unlocked the 40mm Shotgun, I've found Assault to be much more versatile than with the grenade launcher, especially when equipped with a 4x sight. Using the Shotgun attachment is a challenge, as it has only one shot in its magazine, but it is the most powerful shotgun in the game with no damage drop off. I switch to the Shotgun when close quarters combat is necessary. With the Shotgun and the 4x sight, I can easily choose between aggressive playing and camping.
Preferred Setups:
Edit
My all-purpose Assault.
Primary: Any Assault Rifle, usually a long-range one
Secondary: Random pistol (I'm constantly changing pistols)
Gadget: 40mm Shotgun
Spec 1: 4x Optic/Grenade Upgrade (more 40mm Shotgun ammo)
Spec 2: Marksman Training
Spec 3: Vehicle Alternate Weapon
As Engineer
Edit
I pick this Kit if I feel the vehicles are a vital part of the map. Usually my team has enough Engineers to manage, but if I feel that we need more Engineer support, I'll happily help. I've almost exclusively been using the Tracer Dart RPG Improved Demolitions to deal with enemy tanks, but I've recently discovered the usefulness of the AT Mines. You just run out and drop 1 or 2 on a road, then run off to do whatever else you need to do. It's the indirect approach, which I like. Good thing is, they never go away even if you die, and they are so rarely used that they're unexpected.
Preferred setups:
Edit
Dedicated vehicle combat.
Primary: AKS-74u/SCAR-L
Secondary: Tracer Dart (or other pistol if using mines)
Gadget: RPG-7 AT/AT Mines
Spec 1: Explosives Upgrade
Spec 2: Improved Demolitions (or other spec if using mines)
Spec 3: Smoke
The following Engineer setup is more based towards infantry combat.
Primary: UMP-45
Secondary: Random pistol
Gadget: M2 CG/AT Mines
Spec 1:4x Optic
Spec 2: Improved Demolitions/Marksman Training
Spec 3: Alternate Weapons
Medic is my second favourite, next to the Recon. Being able to unload 100 (or 200) rounds of fully automatic rape plus being able to revive teammates is a force to be reckoned with. Usually played as on either Attackers or Defenders. Specs vary depending on my two main playstyles. If I'm on the move, I use Lightweight Equipment and Ceramic Body Armour to quickly get to a dead teammate to revive them. If I'm holding down a position with my squad, I'll use both Medkit Specs. Preferred weapons are RPK, T88 and M60, though weapons usually doesn't matter as I heal.
Preferred Setups
Edit
Doctor. My standard Medic setup.
Primary: Any LMG
Secondary: Any secondary
Spec 1: Medkit H+/Lightweight
Spec 2: Medkit R+/Body Armour
Spec 3: Smoke
Medic setup for infantry combat.
Primary: M60/T88
Secondary: Any pistol
Spec 1: 4x Optic/Medkit H+
Spec 2: Marksman Training
Spec 3: Alternate Weapon
Recon is my absolute favourite, probably because I've always loved being a sniper. I'm usually Recon as Attackers, not so much Defenders, where I prefer to pick another Kit and engage the enemy. I spot every enemy I see, which usually ends up in a +20 for me getting the spot assist. As for actual killing, I only go for enemy Recons and any enemy that stands still. I call Mortar Strikes on MCOM Stations or enemy vehicles that stay in one place. If I'm on a high enough elevation, I'm able to throw a Motion Sensor quite far into the enemy base; this gives me extra points and benefits my team if it lands near an MCOM Station. I almost exclusively use bolt-action rifles, as I prefer the one-shot kill ability. but semi-automatics have their own advantages. Highest Marksman Headshot Bonus was 262 (total points awarded for the kill was 322), earned on a ridiculously long range shot on Isla Innocentes. So far, I think he was out of spotting range even with the 12X. Specializations used are the 12X Scope (apparently is frowned upon; news flash: Recons camp) and the Spotting Scope. Preferred rifles are the SV98 (yes I like the scope, you can see your bullet clearer), M95, SVU and VSS (actually pretty good for an automatic sniper rifle).
Preferred setups
Edit
Standard sniper
Primary: SV-98
Secondary: Random pistol
Gadget: Mortar Strike
Spec 1: 12x Scope
Spec 2: Improved Demolitions (more powerful Mortars = easier kills and quicker destruction of buildings)
Spec 3: Smoke (for UAVs)
Anti-vehicle
Primary: M95 or VSS
Secondary: Any secondary
Gadget: C4 (sometimes Mortars)
Spec 1: 4x Optic or Ammo upgrade (usually used with VSS)
Spec 2: Improved Demolitions
Spec 3: Random
Close range Recon
Primary: SVU/VSS
Secondary: Random pistol
Gadget: Mortar Strike (sometimes C4)
Spec 1: Ammo Upgrade
Spec 2: Magnum Ammunition
Spec 3: Alternate Weapon
Specializations used vary depending on what situation I'm in. I prefer to be the gunner, but I pilot helicopters (I definitely won't crash your helicopter, but you might want a better pilot). Usually I use smoke on all vehicles, though I may use Active Armour Upgrade or Alternate Weapon on tanks.