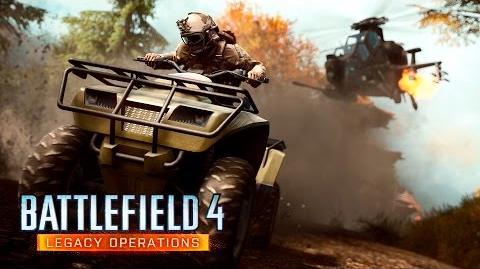 Earlier today, DICE LA released the official cinematic trailer for the upcoming Battlefield 4: Legacy Operations expansion. Created by the amazingly talented Hoodo_Operator, the new trailer shows off what you can expect from the remake of the Battlefield 2 classic, Dragon Valley, and includes a killer rendition of 2's PLA theme.
Veterans might recognize some familiar sights like the Pagoda and expanded Village flags, along with the return of repairable bridges. The Battlefield 3 players among you may recognize the area at the beginning of the trailer as the docks from Noshahr Canals, which is also returning as Dragon Valley's new TDM area.
Legacy Operations is currently slated for a December 2015 release alongside the Holiday Update, but still has no specific date, possibly due to one of the platforms still being in certification. The expansion will be available for PC, Playstation 4, and Xbox One as a separate download; Xbox 360 and Playstation 3 players will still receive the Holiday Patch but the map will be exclusive to current-gen consoles.
See you on the Battlefield! -

Apprentice125(Talk)05:09, December 11, 2015 (UTC)
---
Source(s)
Battlefield 4 Legacy Operations Cinematic Trailer - Youtube - Retrieved December 10, 2015
BATTLEFIELD 4 LEGACY OPERATIONS - Battlefield.com - Retrieved December 10, 2015
---
Follow us on:



Latest News...
Hello Battlefield Wiki! This is 3RDRANGER bringing you some later-than-new news about the upcoming game in the Battlefield series, Battlefield 1.

The gam…

Read more >

GREAT NEWS Battlefield Wiki. DICE has finally announced in a blog post that the Open Beta for Battlefield 1 will be available for everyone on August 31st…

Read more >

ORIGINAL POST
Late last week, DICE revealed that they'll be unveiling a brand new Battlefield game on Friday, May 6, with a countdown clock on the offi…


Read more >
Ad blocker interference detected!
Wikia is a free-to-use site that makes money from advertising. We have a modified experience for viewers using ad blockers

Wikia is not accessible if you've made further modifications. Remove the custom ad blocker rule(s) and the page will load as expected.