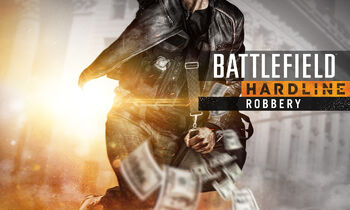 Earlier today, Visceral officially revealed details for Battlefield Hardline's second expansion, Robbery. Robbery's focus is on Criminals trying to pull off the "Big Score", with Criminals trying to pull off large scale heists and Law Enforcement trying to stop them on four new expansive maps; The Docks, Break Pointe, Museum, and Precinct 7.
Robbery will also be introducing a new 5v5 gamemode called Squad Heist, a smaller-scale competitive version of Heist made in homage to Squad Rush. In Squad Heist, Criminals must take two drills and consecutively break into two vaults, steal the loot and get an escape location. The Criminals only get 25 tickets per stage, however, and Law Enforcement will win by completing depleting the Criminals spawn tickets.
Full list of features being added with Robbery are:
Four new maps: The Docks, Break Pointe, Museum, and Precinct 7
Squad Heist gamemode
4 new weapons
2 new gadgets
2 new factional vehicles and new vehicle upgrades
New camos and vehicle paints
The Legendary Super Feature
Weapons, gadgets, and vehicles for the expansion have yet to be announced, so stay tuned for more info to come. Robbery is slated for Premium Early Access in September 2015. See you on the Battlefield!
-

Apprentice125(Talk)17:13, August 4, 2015 (UTC)
---
Source(s)
INTRODUCING BATTLEFIELD HARDLINE: ROBBERY - Battlefield Blog - Retrieved August 4, 2015
---
Follow us on:



Latest News...
Hello Battlefield Wiki! This is 3RDRANGER bringing you some later-than-new news about the upcoming game in the Battlefield series, Battlefield 1.

The gam…

Read more >

GREAT NEWS Battlefield Wiki. DICE has finally announced in a blog post that the Open Beta for Battlefield 1 will be available for everyone on August 31st…

Read more >

ORIGINAL POST
Late last week, DICE revealed that they'll be unveiling a brand new Battlefield game on Friday, May 6, with a countdown clock on the offi…


Read more >
Ad blocker interference detected!
Wikia is a free-to-use site that makes money from advertising. We have a modified experience for viewers using ad blockers

Wikia is not accessible if you've made further modifications. Remove the custom ad blocker rule(s) and the page will load as expected.