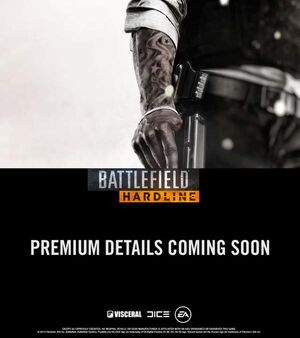 The above image was released with a tweet from the official Battlefield Twitter account yesterday, confirming that Battlefield Hardline will feature a Premium service like Battlefield 3 and Battlefield 4.
The post offered no other no details regarding what content Premium will include, just that details are coming "soon" and to "keep your ears to the streets", so we'll have to wait and see what we can expect from the service. Besides the Versatility, Precision, and Suppression Battlepacks available with the Deluxe edition of Hardline, Premium has been the only announced additional content for the game so far.
What are you expecting to see from Premium for Hardline? Let us know below! Stay tuned for more information as it is released.
See you on the Battlefield! -

Apprentice125(Talk)22:46, February 24, 2015 (UTC)
---
Source(s)
Official Battlefield Twitter account - Retrieved February 24, 2015
---
Follow us on:



Latest News...
Hello Battlefield Wiki! This is 3RDRANGER bringing you some later-than-new news about the upcoming game in the Battlefield series, Battlefield 1.

The gam…

Read more >

GREAT NEWS Battlefield Wiki. DICE has finally announced in a blog post that the Open Beta for Battlefield 1 will be available for everyone on August 31st…

Read more >

ORIGINAL POST
Late last week, DICE revealed that they'll be unveiling a brand new Battlefield game on Friday, May 6, with a countdown clock on the offi…


Read more >
Ad blocker interference detected!
Wikia is a free-to-use site that makes money from advertising. We have a modified experience for viewers using ad blockers

Wikia is not accessible if you've made further modifications. Remove the custom ad blocker rule(s) and the page will load as expected.