Comments

0
Battlefield Heroes and Battlefield Play4Free Servers Shutdown
Ad blocker interference detected!
Wikia is a free-to-use site that makes money from advertising. We have a modified experience for viewers using ad blockers

Wikia is not accessible if you've made further modifications. Remove the custom ad blocker rule(s) and the page will load as expected.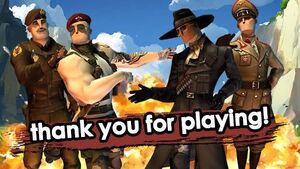 As previously announced back in April, the games Battlefield Heroes and Battlefield Play4Free were slatted by EA to be shutdown permantely on July 14. Unfortunately, that happens to be today's date, and the servers for both games have been closed and the titles have been added to EA's (long) list of shutdown services.
Both games were little over five years old and were the remaining two free-to-play titles in the Battlefield series. Up to it's shutdown last night, players of the Battlefield Play4Free community were attempting to convince EA to keep the game online through a petition on Change.org, which aquired just over 6,900 supporters. Despite the petition's organizer also sending a letter to EA proposing several different alternatives to shutting down the game, the petition was ultimately unsuccessful.
Earlier today, the official Twitter accounts for both games sent out one last tweet thanking their players and confirming the shutdown for both games. -

Apprentice125(Talk)03:20, July 15, 2015 (UTC)
---
Source(s)
Online Service Updates - EA - Retrieved 7/14/15
---
Follow us on:


Latest News...
Hello Battlefield Wiki! This is 3RDRANGER bringing you some later-than-new news about the upcoming game in the Battlefield series, Battlefield 1.

The gam…

Read more >

GREAT NEWS Battlefield Wiki. DICE has finally announced in a blog post that the Open Beta for Battlefield 1 will be available for everyone on August 31st…

Read more >

ORIGINAL POST
Late last week, DICE revealed that they'll be unveiling a brand new Battlefield game on Friday, May 6, with a countdown clock on the offi…


Read more >