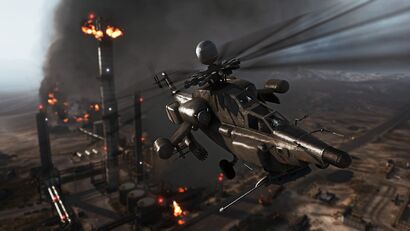 So, it's the 9th of December, and the announcement that DICE LA Producer David Sirland spoke about last week happened today at 9 AM PST through a blog post on Battlelog. The post reads:

It has without a doubt been a thrilling year for Battlefield 4™. We've deployed several expansion packs, launched the Community Test Environment, and done several updates and tweaks to constantly improve the gameplay experience.
With Battlefield 4 Final Stand released, we hope and believe that you will enjoy it together with the rest of the game for a long time. However, there is one thing we want to assure you: there is more content coming for Battlefield 4.
In other words, the announcement didn't exactly confirm that a 6th expansion for Battlefield 4 is in the works, but the promise of more content for the game coming soon does certainly suggests it. The post states that the team will delineate further on what exactly this new content will be "in the near future" (You know, whenever that is).
The blog also asked the community that if previous Battlefield maps were to be "reimagined" in Battlefield 4, which maps should they be? To let everyone answer it, DICE LA has a made a poll that has almost every Battlefield map ever made listed, so if you ever wanted Road to Jalalabad or maybe Valparaiso in Battlefield 4, now's your chance to let the team know.
What are your thoughts on this? Are you happy that DICE LA is continuing to support the game? What maps would you like to see in a future expansion? Let us know below!
-

Apprentice125(Talk)
---
Source(s)

---
Follow us on:



Latest News...
Hello Battlefield Wiki! This is 3RDRANGER bringing you some later-than-new news about the upcoming game in the Battlefield series, Battlefield 1.

The gam…

Read more >

GREAT NEWS Battlefield Wiki. DICE has finally announced in a blog post that the Open Beta for Battlefield 1 will be available for everyone on August 31st…

Read more >

ORIGINAL POST
Late last week, DICE revealed that they'll be unveiling a brand new Battlefield game on Friday, May 6, with a countdown clock on the offi…


Read more >
Ad blocker interference detected!
Wikia is a free-to-use site that makes money from advertising. We have a modified experience for viewers using ad blockers

Wikia is not accessible if you've made further modifications. Remove the custom ad blocker rule(s) and the page will load as expected.