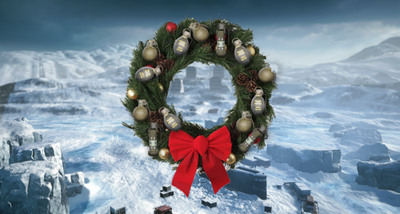 UPDATE
Dan Mitre, the Battlefield Community Manager, has confirmed that, due to the server outages and issues Battlefield 4 has experienced over the past few days, the Double XP boost will be extended beyond New Year's day. No end date has currently been given. Hopefully everyone's able to get some play time in now!
Original Post
As a holiday gift this year, DICE has started a Double XP boost for all users lasting from today up to New Year's day in Battlefield 4. Along with that, all users have also received a free Gold Battlepack for the holidays. So, go play in the snow and get those last few unlocks while you can!
And while we're talking about gifts, Battlefield 3 is currently on sale for a dollar on Origin. Could make a good last-minute gift for any of you procrastinators out there on PC, and the Premium edition is also on sale for $20 if you're willing splurge a little.
Happy Holidays! -

Apprentice125(Talk)18:38, December 25, 2014 (UTC)
---
Source(s)
Battlelog - Retrieved 12/25/2014
Battlefield 3 on Origin - Retrieved 12/25/2014
---
Follow us on:



Latest News...
Hello Battlefield Wiki! This is 3RDRANGER bringing you some later-than-new news about the upcoming game in the Battlefield series, Battlefield 1.

The gam…

Read more >

GREAT NEWS Battlefield Wiki. DICE has finally announced in a blog post that the Open Beta for Battlefield 1 will be available for everyone on August 31st…

Read more >

ORIGINAL POST
Late last week, DICE revealed that they'll be unveiling a brand new Battlefield game on Friday, May 6, with a countdown clock on the offi…


Read more >
Ad blocker interference detected!
Wikia is a free-to-use site that makes money from advertising. We have a modified experience for viewers using ad blockers

Wikia is not accessible if you've made further modifications. Remove the custom ad blocker rule(s) and the page will load as expected.