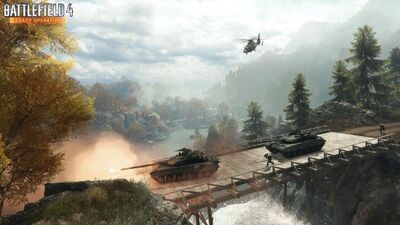 Fans of both Battlefield 4 and Hardline will happy with the news today; earlier this afternoon the release date of Battlefield 4: Legacy Operations was announced alongside the official announcement of Battlefield Hardline: Getaway via the official Battlefield Twitter account.
Legacy Operations will be dropping for BF4 players tomorrow, December 15. The free expansion includes the remade Dragon Valley 2015, bringing the classic Battlefield 2 map back to the game. It is also releasing alongside the Holiday Update, which will feature several improvements to the game, including team/objective play changes and more balancing passes. PC players can also pick up the Battlefield 4 Premium Edition for half off on Origin until tomorrow, so it's a great time to upgrade if you haven't already. Legacy Operations will only be available to PC, Xbox One, and Playstation 4 users; Xbox 360 and Playstation 3 players will still get the Holiday Update tomorrow. Battlefield 4's multiplayer will down on all systems for an hour starting at 8AM UTC/12AM PT to make way for the update, so get your time in while you can!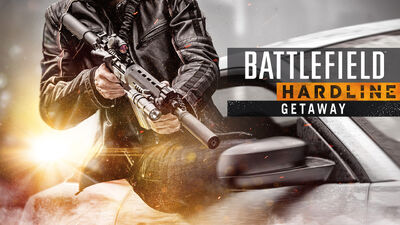 In Hardline news, the official announcement for the Getaway expansion was also made earlier today, following its release on the Community Test Environment last week, and the expansion is now set for a January 2016 release date.
Getaway's focus is all about the thrill of the chase, featuring four new large-scale maps, Pacific Highway, Double Cross, Train Dodge, and Diversion, along with the Capture the Bag gamemode. The expansion also includes three exclusive weapons for the Mechanic along with the RF Jammer gadget and Fire Axe melee weapon, but all players will receive an update alongside its release including nine new weapons available for everyone. Be sure to check out the Wiki page for the full list of content coming!
Which update are you most excited for? Let us know down below! Until next time, see you on the Battlefield! -

Apprentice125(Talk)23:25, December 14, 2015 (UTC)
---
Source(s)
Legacy Operations DLC & Holiday Update Rolling Out - Battlelog forums - Retrieved December 14, 2015
Get Ready for Battlefield Hardline: Getaway - Battlefield.com - Retrieved December 14, 2015
---
Follow us on:



Latest News...
Hello Battlefield Wiki! This is 3RDRANGER bringing you some later-than-new news about the upcoming game in the Battlefield series, Battlefield 1.

The gam…

Read more >

GREAT NEWS Battlefield Wiki. DICE has finally announced in a blog post that the Open Beta for Battlefield 1 will be available for everyone on August 31st…

Read more >

ORIGINAL POST
Late last week, DICE revealed that they'll be unveiling a brand new Battlefield game on Friday, May 6, with a countdown clock on the offi…


Read more >
Ad blocker interference detected!
Wikia is a free-to-use site that makes money from advertising. We have a modified experience for viewers using ad blockers

Wikia is not accessible if you've made further modifications. Remove the custom ad blocker rule(s) and the page will load as expected.