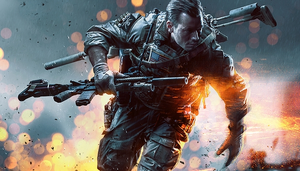 Ever since the Battfield/Call of Duty Rivalry started, COD has always outsold Battlefield. Well now Battlefield 4 is out selling Call of Duty Ghosts on PS4. The top three sellers on the platform are as followed:
1. Killzone Shadowfall
2. FIFA 14
3. Battlefield 4

It should be worth noting however that Ghost is definitely outselling Battlefield 4 on PS3/Xbox360. EA is now determined to make BF4 #1 on the list. -
On another note, the China Rising expansion releases tomorrow on December 3rd, 2013. - awyman13 Talk Work 20:54, December 2, 2013 (UTC)
Ad blocker interference detected!
Wikia is a free-to-use site that makes money from advertising. We have a modified experience for viewers using ad blockers

Wikia is not accessible if you've made further modifications. Remove the custom ad blocker rule(s) and the page will load as expected.