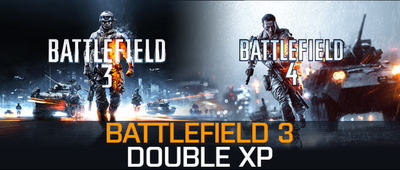 Did everyone forget Battlefield 3 already? I mean itll only be it's second birthday this friday on October 25. As a present for the game's B-Day and the upcoming release of BF4 next week, DICE is having double XP in BF3 for everyone on every platform for a total of 120 hours. It will start at 3PM UTC and will end on October 28 Five days later on the Eve of BF4's launch.
Ad blocker interference detected!
Wikia is a free-to-use site that makes money from advertising. We have a modified experience for viewers using ad blockers

Wikia is not accessible if you've made further modifications. Remove the custom ad blocker rule(s) and the page will load as expected.