Note: TBA Similar Deluxe Editions for different Regions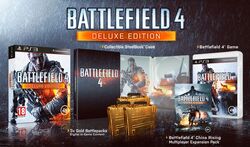 The Battlefield 4: Deluxe Edition has been announced for preorder at GAME in the United Kingdom for £64.99. It features:
A SteelBook Cover
Three Battlepacks - Each containing XP Boosts, Dogtags, Knives, Character Customizations, and unique Weapon Accessories.
"The packs are designed to add an all-new later of multiplayer persistence with an exciting element of chance, and are awarded during game-play"
— GAME