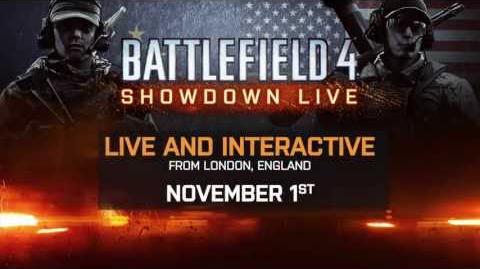 "No scores and Twelve years ago, our founding Battlefield players dominated in this revolutionary genre that was Battlefield. Now it is time again for us Americans to rise and Destroy the European threat and remain supreme at Battlefield!"
DICE is holding a showdown event in London on November 1st, finally revealing Battlefield 4: Second Assault being played on Xbox One with 32 Americans vs 32 Europeans! US troops are commanded by Major Nelson and European tropes by Aceybongos. The event will start at 11 AM PDT or 2 PM EST.
Ill be rooting for the ol boys of the USA, who will you?
USA! USA! USA! --

awyman13 Talk Work 12:49, October 10, 2013 (UTC)
Ad blocker interference detected!
Wikia is a free-to-use site that makes money from advertising. We have a modified experience for viewers using ad blockers

Wikia is not accessible if you've made further modifications. Remove the custom ad blocker rule(s) and the page will load as expected.