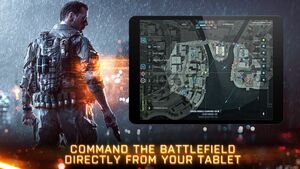 The Mobile Commander App for Battlefield 4 has been pulled from the iOS App Store as well as the Google Play Store, meaning new players can no longer download and access the feature. For those who have already downloaded the app, they can still use it until August 11th, 2015 when the support will officially end permanently.
DICE has explained the reason behind this decision by stating that "This is not an easy choice, but we believe the time is right to retire the mobile app as we're seeing more of our Commanders playing on PC and console." They also went on to say that the Commander mode on PC and consoles will be unaffected by this shutdown.
The community's reaction to this is generally negative, as many felt that it was an important part of the game's experience and that it was one of its major selling points. The app must not have gathered enough use to make continued support worthwhile. -- awyman13 Talk Work 03:47, May 2, 2015 (UTC)
---
Source(s)
http://attackofthefanboy.com/news/battlefield-4-mobile-commander-app-pulled-market-support-ends-august/
---
Follow us on:



Latest News...
Hello Battlefield Wiki! This is 3RDRANGER bringing you some later-than-new news about the upcoming game in the Battlefield series, Battlefield 1.

The gam…

Read more >

GREAT NEWS Battlefield Wiki. DICE has finally announced in a blog post that the Open Beta for Battlefield 1 will be available for everyone on August 31st…

Read more >

ORIGINAL POST
Late last week, DICE revealed that they'll be unveiling a brand new Battlefield game on Friday, May 6, with a countdown clock on the offi…


Read more >
Ad blocker interference detected!
Wikia is a free-to-use site that makes money from advertising. We have a modified experience for viewers using ad blockers

Wikia is not accessible if you've made further modifications. Remove the custom ad blocker rule(s) and the page will load as expected.