According to Frostbite.com, DICE has been porting parts of Battlefield 4 to IOS, as seen from the photos below depicting a ported Rogue Transmission. They do stress, however that its only a tech demo at the moment and may never actually release.
"It has been quite a challenge," said Frostbite's Go program manager Kristoff Benjaminsson. "To handle dynamic features such as destruction or moving light sources, most things in the Frostbite engine happen in realtime. This puts extra demand on performance to be able to deliver large, highly detailed worlds with superb visual quality. We were making great progress feature-wise, but hardware and software limitations forced use to either scale down the number of objects and their complexity to retain visual fidelity, or accept lower visual fidelity to cope with a larger number of objects."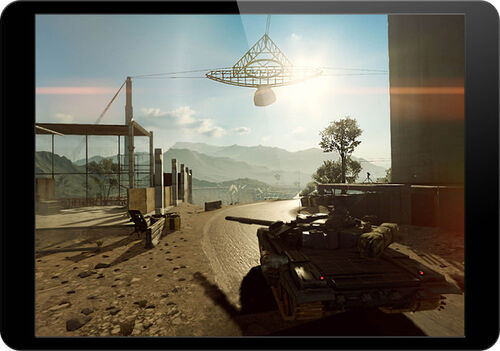 "This all changed when Apple introduced Metal, their new low-level graphics API, which allowed us to make full use of the hardware. Together with the latest range of hardware, Metal has created possibilities previously out of reach and for the first time we can include both high visual fidelity and a large number of objects. Theres still much to do," he continues, "but we're very happy with the results so far. It's a great feeling porting a system, get it running, and discover that there's actually performance left. Even though we have much room for performance improvements on our end, we're pleasantly surprised of the performance we're getting from the hardware."
---
Source(s)
http://www.videogamer.com/ps4/battlefield_4/news/dice_has_been_porting_battlefield_4_to_ios_2.html
---
Follow us on:



Latest News...
Hello Battlefield Wiki! This is 3RDRANGER bringing you some later-than-new news about the upcoming game in the Battlefield series, Battlefield 1.

The gam…

Read more >

GREAT NEWS Battlefield Wiki. DICE has finally announced in a blog post that the Open Beta for Battlefield 1 will be available for everyone on August 31st…

Read more >

ORIGINAL POST
Late last week, DICE revealed that they'll be unveiling a brand new Battlefield game on Friday, May 6, with a countdown clock on the offi…


Read more >
Ad blocker interference detected!
Wikia is a free-to-use site that makes money from advertising. We have a modified experience for viewers using ad blockers

Wikia is not accessible if you've made further modifications. Remove the custom ad blocker rule(s) and the page will load as expected.