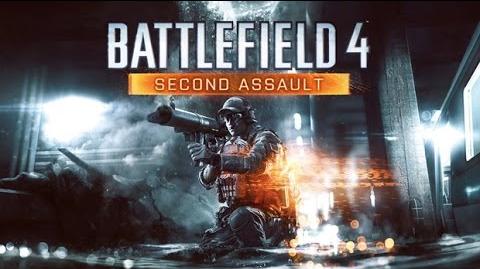 A Teaser trailer for Battlefield 4: Second Assault. It displays some new things on these favorite BF3 maps
Metro
Elevators arent for show anymore. They can be used.
Subway Ceilings can be destroyed and fall on enemies
Lights can be shot creating total darkness
Oman
Part way through a match a serious sandstorm moves in
Firestorm
The Oil Complex can now be completely destroyed
Caspian
Spire has replaced radio tower
Large Prison Walls have been placed at checkpoint
Elevator in Spire
Checkpoint has spike stripes through the entrance
New Weapons
A post in The BF Blog also confirmed that a new vehicle will be added along with 10 new assignments. Also Capture the Flag is returning!
Second Assault Releases on December 3rd, 2013.
Ad blocker interference detected!
Wikia is a free-to-use site that makes money from advertising. We have a modified experience for viewers using ad blockers

Wikia is not accessible if you've made further modifications. Remove the custom ad blocker rule(s) and the page will load as expected.