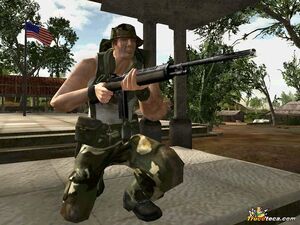 "We were around 35 people that created Battlefield Vietnam in only 11 months, but the final game turned out really well. That is probably my fondest memory from development; to succeed in making a really compelling product that extended the Battlefield universe."
— Ex-DICE Canada Employees
Today, March 14, 2014 marks the 10 year anniversary of the release of Battlefield Vietnam! Vietnam was the second installment of the Battlefield Series and really got the series going. The game was released on March 14, 2004 for North America by the now defunct DICE Canada.
It allowed players to travel to the Battlefields of Vietnam listening to awesome 70s music in their tanks or helicopters as they mowed down the NVA or Americans and much, much more.
A tribute to the game was released a few years ago in the form of Battlefield: Bad Company 2: Vietnam which was basically a modernized version of the classic. Tell us of your greatest experiences of the classic or the remake in the comments below and if your want DICE's opinion's on the 10 year anniversary, visit the link below to the Battlefield Blog.
-- awyman13 Talk Work 00:31, March 15, 2014 (UTC)
---
Source(s)
http://blogs.battlefield.com/2014/03/bf-vietnam-10-year-anniversary/
---
Follow us on:



Latest News...
Hello Battlefield Wiki! This is 3RDRANGER bringing you some later-than-new news about the upcoming game in the Battlefield series, Battlefield 1.

The gam…

Read more >

GREAT NEWS Battlefield Wiki. DICE has finally announced in a blog post that the Open Beta for Battlefield 1 will be available for everyone on August 31st…

Read more >

ORIGINAL POST
Late last week, DICE revealed that they'll be unveiling a brand new Battlefield game on Friday, May 6, with a countdown clock on the offi…


Read more >