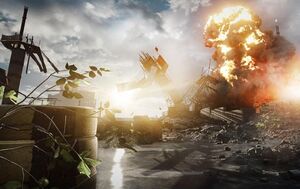 DICE has hinted the future of the series, emphasizing that the narrative is becoming less and less important. The two Head Pats of DICE, Patrick Soderlund and Patrick Bach, had an interview with NY Times over why they believe the series is successful and what they'll do to keep it going.
Soderlund said, "I hate to say this but storytelling does not come naturally to Swedes. But we're good at designing systems, and thats what these games really are. Minecraft puts a box in front of you and says 'Do whatever you want with it'. Battlefield is a system designed for entertainment rather then for telling you a story."
Bach said "The story is just the coating of the game. The game is now the experience of playing it. DICE is focused on creating a title packed with content that may not tell the best story, but will certainly be memorable thanks to the scale of its set pieces. More features. More extras. More destruction. Every new game needs to be the next big thing."
DICE keeps hinting on Battlefield: Bad Company 3 as the next likely installment in the series though Battlefield 5 is always an option. Battlefield 4 releases on October 29, 2013 and will be the 13th installment in the series. --

awyman13 Talk Work 19:50, October 21, 2013 (UTC)
Ad blocker interference detected!
Wikia is a free-to-use site that makes money from advertising. We have a modified experience for viewers using ad blockers

Wikia is not accessible if you've made further modifications. Remove the custom ad blocker rule(s) and the page will load as expected.