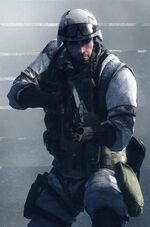 DICE still wants to make a Battlefield: Bad Company 3 and they keep saying it. (Its like the BF4 was the accident child that they didn't really want to make but were pressured into by EA). A few months ago, DICE told of how they didn't have enough bandwidth to make BC3 because of BF4, Battlefront, Mirror's Edge, etc.
While thats still true, creative director of DICE, Lars Gustavsson, had this to say, "I love it. I want to see it again... but trust me, the Bad Company team isn't forgotten, they are just on a very long vacation. So they are out there, they're coming back."
Now while we do know BC3 will come eventually, this is in no way an official announcement, instead being more of a "we'll see".
Ad blocker interference detected!
Wikia is a free-to-use site that makes money from advertising. We have a modified experience for viewers using ad blockers

Wikia is not accessible if you've made further modifications. Remove the custom ad blocker rule(s) and the page will load as expected.