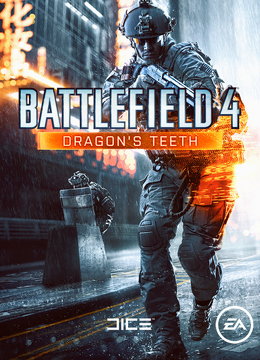 The weapon's of Battlefield 4's fourth expansion pack, Dragon's Teeth has just been revealed. The weapons were found to have been added to the game files in a recent PC patch. Some unnamed gadgets were also found, which seem to be similar to the EOD Bot.
Gamemode
Maps
Weapons
Gadgets

DICE themselves has just revealed the expansion's cover via Twitter, featuring two soldiers, one of which is holding the Ballistic Shield and is standing behind dragon's teeth, a type of fortification. DICE also stated in the Tweet that they will be releasing footage of the expansion next week as well as a release date!
Did we also mention the level cap is also being increased to 130?

Stay tuned for more info. -- awyman13 Talk Work 21:10, May 9, 2014 (UTC)
---
Source(s)
https://twitter.com/Battlefield/status/464866882906910721
---
Follow us on:



Latest News...
Hello Battlefield Wiki! This is 3RDRANGER bringing you some later-than-new news about the upcoming game in the Battlefield series, Battlefield 1.

The gam…

Read more >

GREAT NEWS Battlefield Wiki. DICE has finally announced in a blog post that the Open Beta for Battlefield 1 will be available for everyone on August 31st…

Read more >

ORIGINAL POST
Late last week, DICE revealed that they'll be unveiling a brand new Battlefield game on Friday, May 6, with a countdown clock on the offi…


Read more >
Ad blocker interference detected!
Wikia is a free-to-use site that makes money from advertising. We have a modified experience for viewers using ad blockers

Wikia is not accessible if you've made further modifications. Remove the custom ad blocker rule(s) and the page will load as expected.