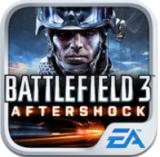 EA Executive Frank Gibeau has 'confirmed' in an interview with the NY Times that DICE is currently working on a high end BF game for mobile platforms.
"We are working on a mobile game of Battlefield that will be high-end and high performance. Its our bet that we can successfully pull that off. But we're embarking on something no one has ever done before to get these games to inter-operate between platforms. Will it work? It already has in some cases. Will it work for all franchises? Not all franchises will make the transition. Battlefield might be a little harder."
Ok since EA as a whole hasnt announced this yet, I wouldnt say its official but this is pretty reliable when it comes to Frank Gibeau. --

awyman13 Talk Work 23:17, October 24, 2013 (UTC)
Ad blocker interference detected!
Wikia is a free-to-use site that makes money from advertising. We have a modified experience for viewers using ad blockers

Wikia is not accessible if you've made further modifications. Remove the custom ad blocker rule(s) and the page will load as expected.