UPDATE AT June 19, 2014:
A forum moderator on Battlelog has stated that the new veteran program was a proposed idea that never happened. With this said, the possibility of this program being released is questionable. -- awyman13 Talk Work 16:23, June 19, 2014 (UTC)
Original Story
A new Battlefield Veteran system has been revealed in a post on Battlelog that has now been removed.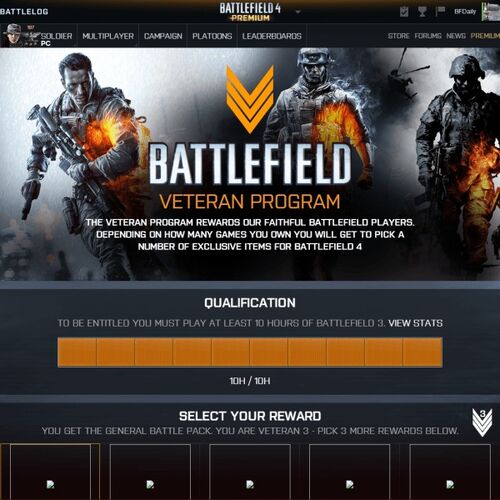 In order to participate, players must have played at least 10 hours of Battlefield 3. Upon doing so you will be awarded a Battlepack and if you have played more installments of the Battlefield Series that are registered to your account you'll get more awards for Battlefield 4
Still no telling what these awards are but time will tell when DICE announces them. -- awyman13 Talk Work 00:37, June 19, 2014 (UTC)
---
Source(s)
http://www.vg247.com/2014/06/17/battlefield-4-veteran-program-battlelog-play-ten-hours-get-rewards/
---
Follow us on:


Latest News...
Hello Battlefield Wiki! This is 3RDRANGER bringing you some later-than-new news about the upcoming game in the Battlefield series, Battlefield 1.

The gam…

Read more >

GREAT NEWS Battlefield Wiki. DICE has finally announced in a blog post that the Open Beta for Battlefield 1 will be available for everyone on August 31st…

Read more >

ORIGINAL POST
Late last week, DICE revealed that they'll be unveiling a brand new Battlefield game on Friday, May 6, with a countdown clock on the offi…


Read more >