Ad blocker interference detected!
Wikia is a free-to-use site that makes money from advertising. We have a modified experience for viewers using ad blockers

Wikia is not accessible if you've made further modifications. Remove the custom ad blocker rule(s) and the page will load as expected.
UPDATE AT June 19, 2014:
A forum moderator on Battlelog has stated that the new veteran program was a proposed idea that never happened. With this said, the possibility of this program being released is questionable. -- awyman13 Talk Work 16:23, June 19, 2014 (UTC)
Original Story
A new Battlefield Veteran system has been revealed in a post on Battlelog that has now been removed.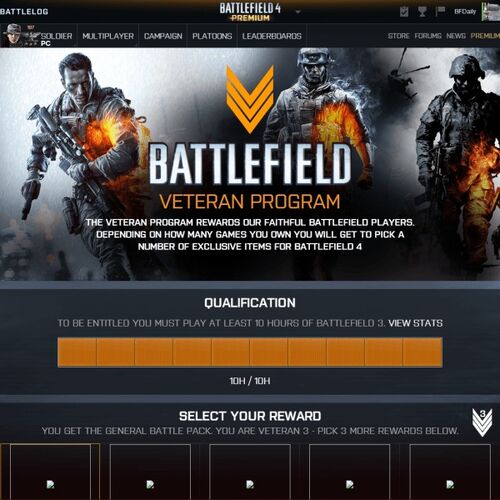 In order to participate, players must have played at least 10 hours of Battlefield 3. Upon doing so you will be awarded a Battlepack and if you have played more installments of the Battlefield Series that are registered to your account you'll get more awards for Battlefield 4
Still no telling what these awards are but time will tell when DICE announces them. -- awyman13 Talk Work 00:37, June 19, 2014 (UTC)
---
Source(s)
http://www.vg247.com/2014/06/17/battlefield-4-veteran-program-battlelog-play-ten-hours-get-rewards/
---
Follow us on:


Latest News...
Hello Battlefield Wiki! This is 3RDRANGER bringing you some later-than-new news about the upcoming game in the Battlefield series, Battlefield 1.

The gam…

Read more >

GREAT NEWS Battlefield Wiki. DICE has finally announced in a blog post that the Open Beta for Battlefield 1 will be available for everyone on August 31st…

Read more >

ORIGINAL POST
Late last week, DICE revealed that they'll be unveiling a brand new Battlefield game on Friday, May 6, with a countdown clock on the offi…


Read more >