DICE has made numerous hints to the return of the Squad Menu to BF4 and with the announcement of the return of Rent-a-Server on the Battlefield Blog, DICE had officially (though indirectly) confirmed the Squad Menu's return. With that being said, DICE has now proceeded to directly announce the feature's return today on the BF Blog.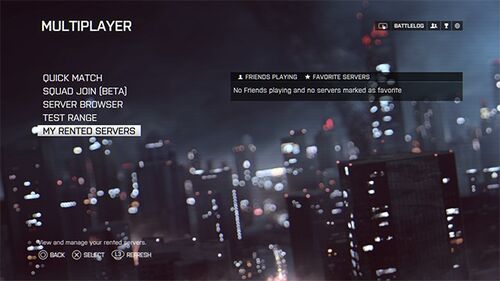 The Squad Menu allows players to group up in the main menu of the game in a squad and then join a game together.
DICE stated in the blog that this is the first iteration of the Squad Menu, with new features to be added later based on feedback. They also stated that the feature is currently only available for joining the base game maps of the game on Conquest, Rush, Domination, Team Deathmatch, and Obliteration. The features use on expansion maps and other gamemode will have to wait for future updates.
The next iteration of the Squad Menu feature will release in Summer 2014 along with the Battlefield 4: Dragon's Teeth expansion.
-- awyman13 Talk Work 20:12, May 1, 2014 (UTC)
---
Source(s)
http://blogs.battlefield.com/2014/05/introducing-squad-join-beta/
---
Follow us on:



Latest News...
Hello Battlefield Wiki! This is 3RDRANGER bringing you some later-than-new news about the upcoming game in the Battlefield series, Battlefield 1.

The gam…

Read more >

GREAT NEWS Battlefield Wiki. DICE has finally announced in a blog post that the Open Beta for Battlefield 1 will be available for everyone on August 31st…

Read more >

ORIGINAL POST
Late last week, DICE revealed that they'll be unveiling a brand new Battlefield game on Friday, May 6, with a countdown clock on the offi…


Read more >
Ad blocker interference detected!
Wikia is a free-to-use site that makes money from advertising. We have a modified experience for viewers using ad blockers

Wikia is not accessible if you've made further modifications. Remove the custom ad blocker rule(s) and the page will load as expected.