Comments

0
Unlocking Wolf and Dino Masks in Battlefield Hardline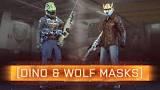 The Dino and Wolf Masks are gadgets featured in Battlefield Hardline that offer only visual benifits. They are unlocked upon completing the Cash Hoarder 3 assignment which requires players to have 10 Milliom dollars of cash at once, NOT ACCUMULATIVE.
The masks themselves dont cost 10 Million, you just need to money to complete the assignment and unlock them for free.
Considering the amount of time it would take to save that money up, it would be viable to play Hotwire as it rewards large amounts of cash in a short amount of time.
Visceral stated that more Masks would be available in the future, meaning it would be up to players to discover how to unlock them.
-- awyman13 Talk Work 17:07, April 4, 2015 (UTC)
---
Source(s)
http://www.primagames.com/games/battlefield-hardline/tips/how-unlock-wolf-and-dinosaur-masks-battlefield-hardline
---
Follow us on:


Latest News...
Hello Battlefield Wiki! This is 3RDRANGER bringing you some later-than-new news about the upcoming game in the Battlefield series, Battlefield 1.

The gam…

Read more >

GREAT NEWS Battlefield Wiki. DICE has finally announced in a blog post that the Open Beta for Battlefield 1 will be available for everyone on August 31st…

Read more >

ORIGINAL POST
Late last week, DICE revealed that they'll be unveiling a brand new Battlefield game on Friday, May 6, with a countdown clock on the offi…


Read more >