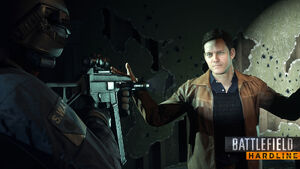 Many games now a days are criticized for being developed and released with only a faction of the content available; the rest being set aside with a price tag to be bought later as a piece of DLC. The game Evolve is one such target of criticism and with the announcement of Battlefield Premium for Battlefield Hardline, many started targeting Visceral with claims that the developer was holding back content from the main game so that they could sell it later as DLC.
The lead multiplayer designer Thad Sasser, however, quickly put these accusations to rest. The fact is, none of the announced DLC is actually even developed yet. "I don't know how it could be included in the full game because it's not built yet. So that would be a real magic trick for us to include something that we haven't built yet."
"Obviously, we've talked about it, we've thought about it, we've got some designs, we've got some things we're working on," he added. "But there's nothing that we could actually ship today that would be part of the game. So I don't even see how that conversation even realistically happens."
So while Hardline has four story themed expansions that are in development at the moment, they are only designs, meaning that Visceral could not ship them with the game now if they wanted to. They've already added all that they can at this point.
Hardline releases next week on March 17, 2015 for all platforms. Stay tuned for more news on Battlefield. -- awyman13 Talk Work 02:14, March 13, 2015 (UTC)
---
Source(s)
http://www.gamespot.com/articles/we-re-not-holding-back-battlefield-hardline-conten/1100-6425880/
---
Follow us on:



Latest News...
Hello Battlefield Wiki! This is 3RDRANGER bringing you some later-than-new news about the upcoming game in the Battlefield series, Battlefield 1.

The gam…

Read more >

GREAT NEWS Battlefield Wiki. DICE has finally announced in a blog post that the Open Beta for Battlefield 1 will be available for everyone on August 31st…

Read more >

ORIGINAL POST
Late last week, DICE revealed that they'll be unveiling a brand new Battlefield game on Friday, May 6, with a countdown clock on the offi…


Read more >
Ad blocker interference detected!
Wikia is a free-to-use site that makes money from advertising. We have a modified experience for viewers using ad blockers

Wikia is not accessible if you've made further modifications. Remove the custom ad blocker rule(s) and the page will load as expected.