"User-generated videos are a valuable and unique aspect of how gamers share their experiences playing the games they love, and one that EA supports"
— EA
Following the reveal that Microsoft paid Youtubers to promote the Xbox One under certain conditions EA officially revealed that they too had a similar program for Battlefield 4 called the Ronku Assignment. It ran from October 29, 2013 to November 29th, 2013. Youtubers were paid $10 for every 1000 views relating to either BF4 or NFS Rivals with each producers limited to 3 videos and a view cap of 20 Million (Possible $200,000!).
Producers had to abide by certain criteria first before being paid.
The agreement may not be disclosed to anyone
Videos must relate to the good aspects of the game (similar to how Microsoft only allowed users to talk good of the Xbox One
Glitches and problems are prohibited
Videos largely should but were not limited to focus on Levolution or crossing the finish line in Rivals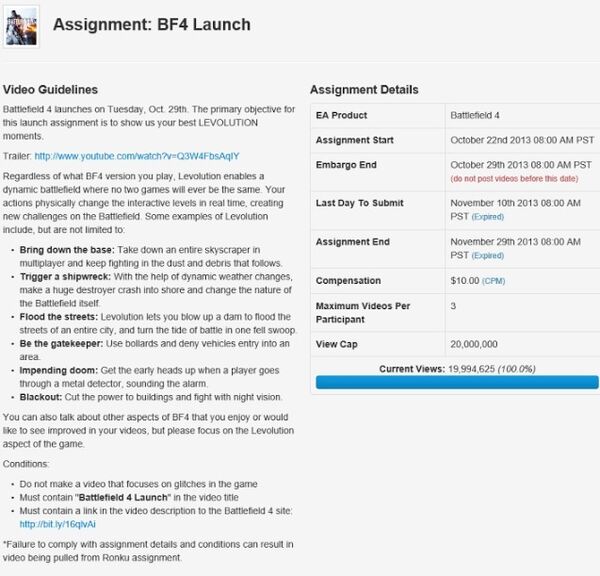 ---
Source(s)
http://www.gamespot.com/articles/ea-pays-youtube-producers-to-promote-its-games/1100-6417271/
---
Follow us on:



Latest News...
Hello Battlefield Wiki! This is 3RDRANGER bringing you some later-than-new news about the upcoming game in the Battlefield series, Battlefield 1.

The gam…

Read more >

GREAT NEWS Battlefield Wiki. DICE has finally announced in a blog post that the Open Beta for Battlefield 1 will be available for everyone on August 31st…

Read more >

ORIGINAL POST
Late last week, DICE revealed that they'll be unveiling a brand new Battlefield game on Friday, May 6, with a countdown clock on the offi…


Read more >