Comments

14
Battlefield 3's next trailer could be unlocked with "1 million likes"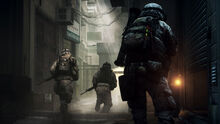 DICE has ventured into social media to advertise their next game, Battlefield 3.
The development team has assembled a 12 minute trailer for Battlefield 3 complete with producer commentary, but only has plans to release it earlier than April 17 if Battlefield's fan page on Facebook gets 1 million likes.
Upon reaching the magic number, both the full length 12 minute trailer, and the same video with producer commentary, will be unveiled to the public.
---
Original/source article: EnterBF3.com | Community Mission - 1,000,000 Battlefield 3 Likes!