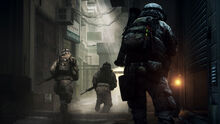 DICE has ventured into social media to advertise their next game, Battlefield 3.
The development team has assembled a 12 minute trailer for Battlefield 3 complete with producer commentary, but only has plans to release it earlier than April 17 if Battlefield's fan page on Facebook gets 1 million likes.
Upon reaching the magic number, both the full length 12 minute trailer, and the same video with producer commentary, will be unveiled to the public.
---
Original/source article: EnterBF3.com | Community Mission - 1,000,000 Battlefield 3 Likes!
Ad blocker interference detected!
Wikia is a free-to-use site that makes money from advertising. We have a modified experience for viewers using ad blockers

Wikia is not accessible if you've made further modifications. Remove the custom ad blocker rule(s) and the page will load as expected.