Comments

67
Battlefield 3 "designed to take Call of Duty down"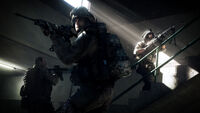 EA says
Battlefield 3
is ready for a "battle of the titans" with Activision's
Call of Duty
series.
During the Ad Age Conference this week, EA CEO John Riccitiello stated that Battlefield 3 is "designed to take [Call of Duty] down." He also predicts that "a couple of hundred million dollars [worth of] marketing against these two products."
This news comes after the EA Download Manager may have accidentally revealed Battlefield 3's release date, one particularly close to the usual window we see Call of Duty games released in.
Riccitiello also spoke of the gaming industry, which he expected to increase from a userbase of 1.5 billion to 3 billion in three to four years.
---
Original/source articles:

*CVG | Battlefield 3 'designed to take Call of Duty down' - EA CEO