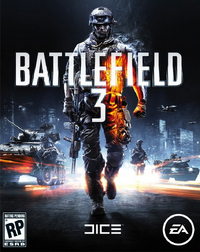 Battlefield 3 could end up being a best selling novel too.
That is to say, if rumors that there will be a book for DICE's upcoming came in the Battlefield series. Retailers such as Amazon.com and Barnes & Noble have recently listed a written form of the game to be authored by Andy McNab. McNab is known for his account of a failed SAS patrol mission in the book Bravo Two Zero.
McNab has supposedly helped DICE on a number of war-related topics, in order to assist them in accurate depictions of characters and other items in Battlefield 3.
The suspected Battlefield 3 book will be 400 pages and retail for $9.99. It will apparently release alongside its namesake on October 25.
---
Original/source article:
---
Ad blocker interference detected!
Wikia is a free-to-use site that makes money from advertising. We have a modified experience for viewers using ad blockers

Wikia is not accessible if you've made further modifications. Remove the custom ad blocker rule(s) and the page will load as expected.