Comments

40
Battlefield 3 for mobile and new cover art for the Physical Warfare Pack
300px|right Battlefield 3 might be pushing platforms to their limits - including mobile ones.
Today, EA released video displaying some of its AAA titles that will also have releases on mobile devices, such as the Apple iPad or iPhone. Battlefield 3's mobile version got some time to shine, albeit somewhat brief.
No further details nor a release date were provided for the mobile editions of Battlefield 3.
---
DICE also recently released some new box art for buyers of the Limited Edition of Battlefield 3. The Physical Warfare Pack, a pre-order package that grants exclusivity to some items and day one unlocks, now has its own cover for select retailers to display.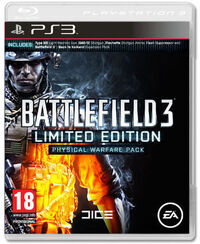 ---
Original/source articles:
---