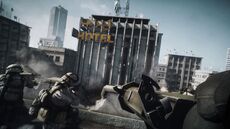 Karl Magnus Troedsson, the general manager of DICE, expressed his confidence that Battlefield 3 will be a "real sequel to Battlefield 2."
He stated that the Bad Company series was meant to "[introduce] the franchise to next gen console... Now is the time to put all that together and make a proper sequel to 2005's Battlefield 2. The biggest change from Battlefield Bad Company 2 to Battlefield 3 will be the tone of the game, definitely."
With the return of lying prone and jet piloting to the series, Troedsson cited that it was "hard to ignore the outcry from the community. The return of jets and the return of prone is [definite] ... we have listened to the community straight off."
At the same time, the DICE general manager noted that it was going to be difficult to put prone back in the game. "We wanted to bring it back but we also know that there's a lot of hassle with things like that; both visual quality-wise but also balancing. How do you handle that sniper, up on a hill, on the grass, lying down?"
When asked about rival developers in the genre, Troedsson had this to say: "The competitors ... are out there, they're established, and they're very, very big ... we believe that they are not innovating, that they are treading water."
Also of note this week was the news that the console versions of the Battlefield 3 maps will be smaller. When questioned on the reasoning, DICE's Rendering Architect, Johan Andersson, explained in a tweet that "the consoles are 5-6 years old, can't handle [the higher player count]. PC on the other hand can."
On another note, the final episode of the Battlefield 3 "Fault Line" video series will be released on YouTube this Wednesday.
---
Original/source articles:
Ad blocker interference detected!
Wikia is a free-to-use site that makes money from advertising. We have a modified experience for viewers using ad blockers

Wikia is not accessible if you've made further modifications. Remove the custom ad blocker rule(s) and the page will load as expected.