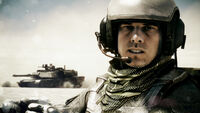 Battlefield 3 could be outselling the best-selling franchise in history.
In the latest HipHopGamer show, Gerard Williams (HipHopGamer) claims that an inside source has informed him that DICE's next game is currently beating Modern Warfare 3 in pre-order sales at GameStop. According to Williams, GameStop did not want to make this information public.
He also cites an internal survey that was given out to retailers, such as Toys R' Us, Target, GameStop, etc., that featured the question: Battlefield 3 vs. Modern Warfare 3 – which game would you buy if you could only buy one? The answer, he claims, was in favor of Battlefield 3 by 72.3%.
No confirmation from GameStop has been made yet.
---
Original/source article:
---
Ad blocker interference detected!
Wikia is a free-to-use site that makes money from advertising. We have a modified experience for viewers using ad blockers

Wikia is not accessible if you've made further modifications. Remove the custom ad blocker rule(s) and the page will load as expected.