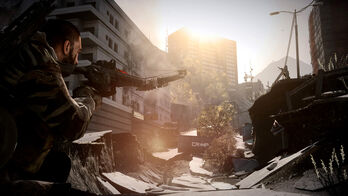 DICE has released a few more details about the upcoming Battlefield 3 Aftermath expansion, including a fly-through of one of the maps. The new expansion will feature aftershocks that go off at random intervals, and will obviously affect the gameplay. The ground will shake, debris will fall off buildings, etc, which will affect, or rather, disturb players throughout the map.
Aftermath will include 4 new maps, new weapons, new game modes, and new vehicles as well. It will launch next month. Premium members will of get it for free as it's part of the pack, while regular players will need to fork up $15 for the DLC. Also, check out a fly through of the map "Epicenter" here.
Ad blocker interference detected!
Wikia is a free-to-use site that makes money from advertising. We have a modified experience for viewers using ad blockers

Wikia is not accessible if you've made further modifications. Remove the custom ad blocker rule(s) and the page will load as expected.