Ok, I may get into some trouble for putting this into the news but in case anyones been living under a rock for the past few months, it's Christmas! So I'd just like to say Merry Christmas and a Happy New Year to you! It's been a plesaure working with you guys these past few months.
Incase the cave dweller forgot what music is usually played here is something to get started with. Also, in case we forgot what Christmas is trully about then listen to this.
Once again, Merry Christams and a Happy New Year!
Banzia,
Hyper.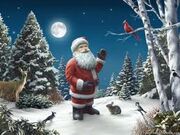 Ad blocker interference detected!
Wikia is a free-to-use site that makes money from advertising. We have a modified experience for viewers using ad blockers

Wikia is not accessible if you've made further modifications. Remove the custom ad blocker rule(s) and the page will load as expected.