Today a new Battleblog was released; this time it talks about how DICE is working with the design, tweaking, testing and re-tweaking of weapons in Battlefield 3.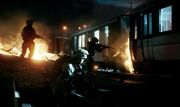 Undoubtlebly, Battlefield 3 will push forward with weapon authenticity and details. From attachments affecting barrel length to changing firing mode, there is alot on what each weapon means to the player. As stated by Senior Designer Alan Kertz:
Authenticity is really important when you're doing a modern day game like Battlefield 3. We know our players look critically at the guns in our games, so we brought in experts like Andy McNab. Our military advisors not only help us get it right, they help us understand why it's right.
Now when they say that details are important, they also make sure the weapon is true to its real-life verson. And when they mean that it will stay true, they really mean it. It comes down to details like reloads, mobility, bullet trajectories, and even how the caliber and barrel length of a gun determines muzzle velocity and energy.
Even if the player will have the opportunity to use an almost-real weapon in Battlefield 3, Alan also wants to emphazise the importance of DICE's customization philosophy for the game. Directly from the source:
We're not just giving you weapon A or B, take it or leave it, though. Each main weapon will be heavily customizable to suit different roles. The majority of weapons in Battlefield 3 can be tailored by the player to fit anything from close quarter to long range combat, or something in between.
At the end of the Battleblog, which you may find here, there was a hint that the next Battleblog, or a future one, will show us more information on weapon customization.
Source:
http://blogs.battlefield.ea.com/battlefield_bad_company/archive/2011/08/11/battleblog-6-building-the-game-from-the-gun-out.aspx
Ad blocker interference detected!
Wikia is a free-to-use site that makes money from advertising. We have a modified experience for viewers using ad blockers

Wikia is not accessible if you've made further modifications. Remove the custom ad blocker rule(s) and the page will load as expected.