Today, DICE released the new "Matches" feature on Battlelog. First detailed last week, platoons can now engage in competitive clan matches for glory and bragging rights on the battlefield. The feature contains a fully cuztomizable suite of options including maps to be played on, number of player per team, game modes for each map, and even the ability to ban certain types of weapons.
To set up a match, players will need to have access to a server, but the page itself (requires signing in to Battlelog to view link) also contains a link to where players can rent a server at varying prices depending on their region. Players then need to select which platform they will be playing on and log in to the server. After doing so, they have the full Match suite available to them.
It seems this feature will bring a much more competitive environment to Battlefield 3. The best part may be for those who haven't purchased Premium as Matches will not require the expansion pack season pass in order to participate. However, maps and game modes will be based on what the match creator currently has, excluding those who have not purchased Back to Karkand or Close Quarters if the creator picks a map from either expansion.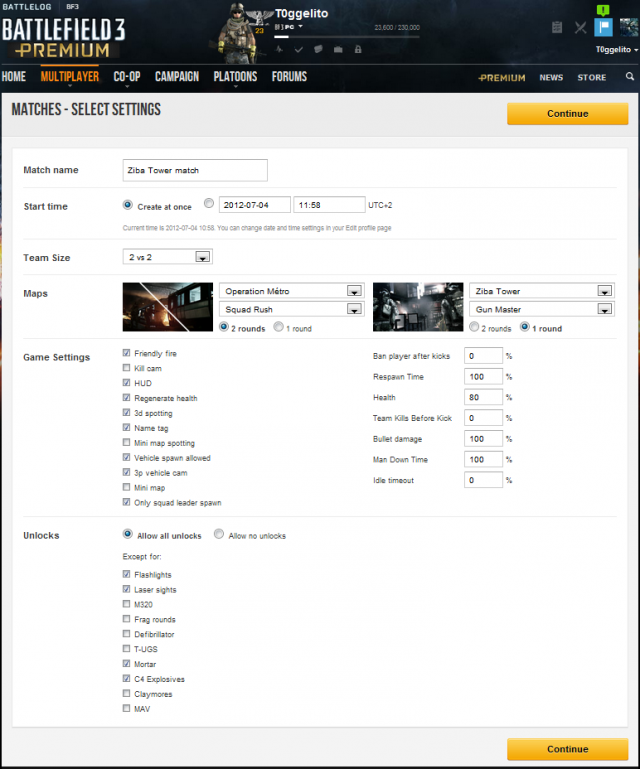 ---
Source(s)

---
Follow us on:



Latest News...
Hello Battlefield Wiki! This is 3RDRANGER bringing you some later-than-new news about the upcoming game in the Battlefield series, Battlefield 1.

The gam…

Read more >

GREAT NEWS Battlefield Wiki. DICE has finally announced in a blog post that the Open Beta for Battlefield 1 will be available for everyone on August 31st…

Read more >

ORIGINAL POST
Late last week, DICE revealed that they'll be unveiling a brand new Battlefield game on Friday, May 6, with a countdown clock on the offi…


Read more >
Ad blocker interference detected!
Wikia is a free-to-use site that makes money from advertising. We have a modified experience for viewers using ad blockers

Wikia is not accessible if you've made further modifications. Remove the custom ad blocker rule(s) and the page will load as expected.