So much for rumors. It loos like Battlefield Premium is going to happen, and it will be released along with Close Quarters next week during E3 on June 4th. PS3 players will have access to CQ on this date, but PC and Xbox 360 players will have to wait a week unless they get Premium. This news comes from a leak by both the European PlayStation Blog and German site, Gamers Unity.
The PS Blog leak was taken down but is still in a Google Search cache. The fact sheet, however, provides many details on Battlefield Premium. Apparently, there is another DLC in the mix called Aftermath, set to release before Endgame, likely pushing the latter back to next Spring.
Some of the features of Premium will be unique camouflages for player models and their weapons, similar to Bad Company 2's SPECACT Dr. Pepper promotion and then later DLC. Subscribers will also receive a unique knife and dog tags to show their fan-dom off and will have early two-week access to all of the next DLC's. Other features include the ability to reset all of your stats on Battlelog for a fresh start, save up to five Battle Reports, access to exclusive double XP weekends, and having priority in server queues.
All of these sound like great features, except for that last one. Having server queue priority could really piss off a lot of players and make many feel like they're forced to get Premium just to be able to play. The benefit to buying Premium however, other than what I've already stated, is that it will be cheaper than buying all of the DLC's when they become available. It will cost US$49.99/£39.99/€49.99/AU$79.99. Close Quarters, on the other hand will set you back a more modest US$14.99/£11.99/€14.99/AU$23.95.
Check out the fact sheet for yourself while you're at it.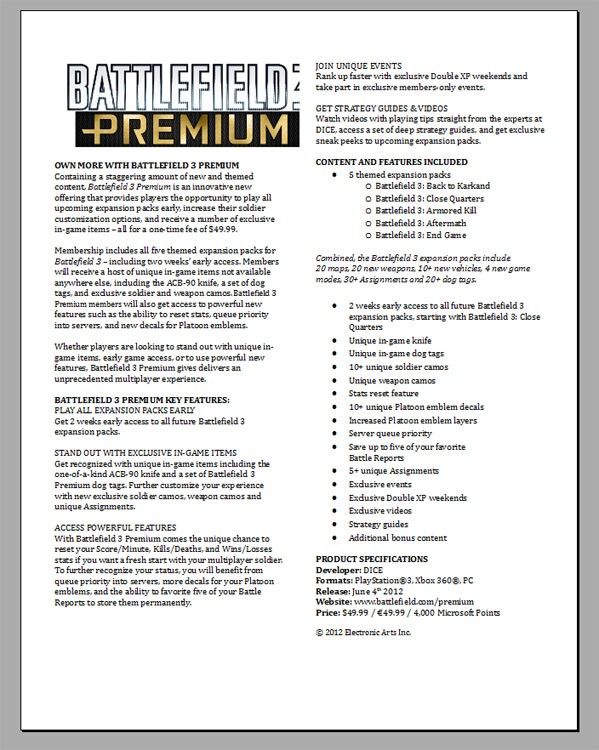 UPDATE: The Official Battlefield page on Facebook just made a post to watch the Battlefield Blog and its page on Facebook for information on Battlefield Premium on June 4th, acknowledging the leaks and essentially confirming its release.

---
Source(s)

---
Follow us on:



Latest News...
Hello Battlefield Wiki! This is 3RDRANGER bringing you some later-than-new news about the upcoming game in the Battlefield series, Battlefield 1.

The gam…

Read more >

GREAT NEWS Battlefield Wiki. DICE has finally announced in a blog post that the Open Beta for Battlefield 1 will be available for everyone on August 31st…

Read more >

ORIGINAL POST
Late last week, DICE revealed that they'll be unveiling a brand new Battlefield game on Friday, May 6, with a countdown clock on the offi…


Read more >
Ad blocker interference detected!
Wikia is a free-to-use site that makes money from advertising. We have a modified experience for viewers using ad blockers

Wikia is not accessible if you've made further modifications. Remove the custom ad blocker rule(s) and the page will load as expected.