Not long before the release of Battlefield 3, Razer released some impressive Battlefield-themed gear including a BlackWidow keyboard, an Imperator mouse, an Onza controller and a Scarab mousepad. Now, 7 months after release, Razer have released another fine piece of gear and this time, it's a headset.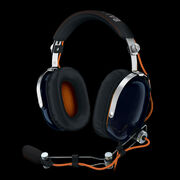 http://au.razerzone.com/gaming-audio/battlefield-3-razer-blackshark
The Razer BlackShark 2.0 Battlefield 3 Edition is a beautiful headset and features a detachable microphone and a circumaural design which helps cancel all of that shouting that your parents do when you play Battlefield nonstop. It is available for 129.99 US dollars or 164.95 Australian bucks.
Ad blocker interference detected!
Wikia is a free-to-use site that makes money from advertising. We have a modified experience for viewers using ad blockers

Wikia is not accessible if you've made further modifications. Remove the custom ad blocker rule(s) and the page will load as expected.