Comments

34
BF wiki reaches highest viewership ever
So between yesterday and today, we broke our last record, which was around 25k visitors. Today, we've reached around 37k visitors, the highest in the wiki's history, vastly outdoing any other period since the wiki was formed, with the exception of the open beta period.
Before that, BFBC2 garnered around 6-7k visitors peak at the time of its release and BFBC2V with around the same number. That's a HUGE margin. Below is a chronological graph of BF wiki visitorship from 2008 to the present.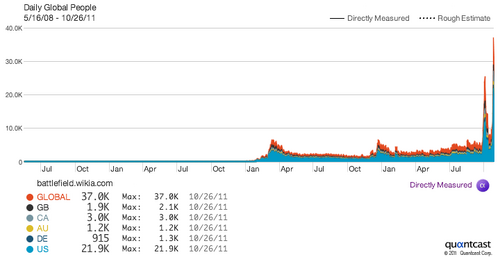 Also of note are the disproportionate amount of Asians, poor people, and people lacking a college education who visit here.