| | |
| --- | --- |
| | This article is currently under construction. It may contain little or inaccurate information. |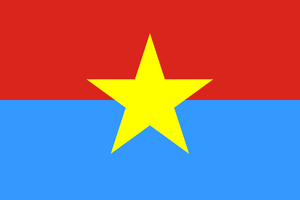 The Viet Cong, or National Liberation Front (NLF) (Vietnamese: Việt Cộng) was a political organization and militia in South Vietnam and Cambodia that fought the Southern Vietnamese and it's allies. It had both guerrilla and normal military units, mainly composed of pro-communist South Vietnamese civilians and villagers. Despite necessarily fighting for the same cause, the Viet Cong and the North Vietnamese were not allies, although the South thought otherwise.
Battlefield Vietnam
Edit
The Viet Cong fight the United States Army, United States Navy, United States Marine Corps, and Military Assistance Command, Vietnam in Battlefield Vietnam.
Engagements against the US Army
Edit
Engagements against the US Marine Corps
Edit
Engagements against the MACV
Edit
Player kits
Edit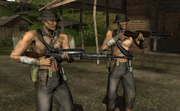 Loadout 1
Loadout 2
Heavy Assault
Edit
Loadout 1
Loadout 2
Loadout 1
Loadout 2
Loadout 1
Loadout 2
Ad blocker interference detected!
Wikia is a free-to-use site that makes money from advertising. We have a modified experience for viewers using ad blockers

Wikia is not accessible if you've made further modifications. Remove the custom ad blocker rule(s) and the page will load as expected.