This article is a stub. It is short and in need of expansion. Why not help out?
Incoming!
The subject of this article is a recent or unreleased addition to a Battlefield game. It may contain speculation or errors.
Have new, relevant information to add? Why not help out?
This article is currently under construction. It may contain little or inaccurate information.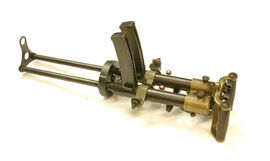 The Villar-Perosa M15 was an Italian double-barrel automatic weapon produced during World War I. Originally manufactured as a defensive armament for two-seat aircraft, a modified variant saw use by ground forces from 1917 onwards. Although not originally designed as such, the portable, pistol-calibre automatic has many characteristics of a submachine-gun, and can be considered one of the earliest examples to enter mass-production.
The weapon consists of two automatic receivers connected side-by-side, with each being fed from its own top loaded 25 round magazine. Due to its lineage, the Villar-Perosa lacks a conventional pistol grip or stock, and instead has the spade-grip design of a crew-served weapon. Later in the war, some of these guns were dismantled and rebuilt as more practical infantry weapons, with one such design being the Beretta M1918.
Battlefield 1
Edit

The Villar Perosa is appears in Battlefield 1, first shown in the Avanti Savoia campaign chapter. The weapon appears to be modified with a pistol grip and foregrip.
The weapon appears in multiplayer as one of the weapons used by the Sentry elite class. It appears on Italian maps to reflect its origin.