WZ-10
Talk

0
1,963pages on
this wiki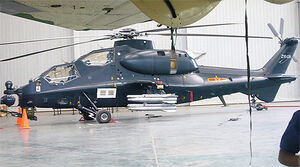 The WZ-10 is a Chinese attack helicopter built by Changhe Aircraft Industries Corporation. In development since the mid-1990s, the WZ-10 was introduced to the People's Liberation Army in December 2010. The helicopter was designed out of the need of a dedicated anti-tank helicopter, as China had only the WZ-9 as an interim attack helicopter, that was better suited as a utility helicopter.
The WZ-10 is armed with 57mm rocket pods, the HJ-10 anti-tank missile launcher on stub wings, and a 23mm cannon mounted in the nose. The helicopter has also gone into full production since its acception to the military.
Battlefield 2
Edit
WZ-10
Vehicle passengers

Pilot
Gunner
(2 total)

Main weapon

57mm rockets

Main weapon ammuntion per reload

14 (before v1.2 patch)
8 (after v1.2 patch)

2nd passenger weapon

23mm automatic cannon

2nd passenger weapon ammunition per reload

900

2nd passenger alternative weapon

HJ-10 TV-guided missiles

Countermeasures

Flares

Vehicle speed

Moderate

Vehicle maneuverability

Medium

Camouflages available

Woodland

Operators

People's Liberation Army
In Battlefield 2, the WZ-10 is the attack helicopter for the People's Liberation Army. Its equivalents are the USMC AH-1Z Viper and the MEC Mi-28 Havoc.
The helicopter itself performs nearly identically to the AH-1Z, as its cannon is not as powerful as the Havoc's. Its rockets are also better suited for anti-infantry roles as they have a higher blast radius, while the gunner's guided missiles can easily destroy enemy armor.
Battlefield 4
Edit

The
WZ-10
, known in game as the
Z-10W
, appears in
Battlefield 4
as the
People's Liberation Army
's attack helicopter. It can be seen on the map
Siege of Shanghai
opposing U.S.
AH-1Z Vipers
.