Z-11W
Talk

0
1,958pages on
this wiki
Redirected from WZ-11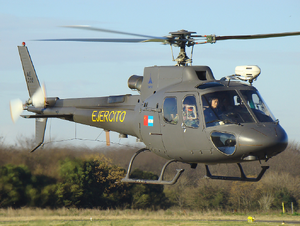 The Z-11W also known as the WZ-11 is an armed variant of the Z-11 light utility helicopter produced by Changhe Aircraft Industry Corporation of China. In development since 1991, the original Z-11 entered service as a trainer helicopter in 1998.
The Z-11W was designed soon after to include weapons including the HJ-8 ATGM, 12.7mm Berezin UB machine gun pods, and 57mm rocket pods that were also planned to be used on the WZ-10 at the time. The WZ-11 entered service in 2008 and is used as a combat support, reconnaissance, and medevac helicopter. The Argentine Military evaluated one of the helicopters, but did not make any purchases.
Battlefield 2: Armored Fury
Edit
WZ-11
Vehicle passengers

Pilot
2 passengers
(3 total)

Main weapon

2x Berezin UB gun pods

Main weapon fire mode

Automatic

Main weapon ammuntion per reload

900

2nd & 3rd passenger weapon

Passenger's kit weapons

Sensors
Countermeasures

Flares

Vehicle speed

Fast

Vehicle maneuverability

High

Camouflages available

Woodland

Operators

People's Liberation Army
In Battlefield 2: Armored Fury, the WZ-11 is the PLA's scout helicopter. The helicopter is armed with two Berezin UB gun pods controlled by the pilot, and can use a UAV once about every minute. Like other scout helicopters, the WZ-11 can carry two passengers on the sides. These passengers can use whatever kit weapons they have with them, allowing Anti-Tank soldiers to fire rockets at enemy armor, or Engineers to fix the helicopter with their wrench or airdrop anti-tank mines on high-traffic roads.
The WZ-11 is, in most regards, very similar to the USMC AH-6 Little Bird. Its guns are mounted closer together than the MEC Eurocopter EC635's and it is more maneuverable, as well as being faster than the EC635. Since the helicopter's guns are mounted closer, it can hit another scout helicopter with both guns even at range, making it less disadvantaged in helicopter combat.
The WZ-11 is also very vulnerable to anti-air and ground fire. Stinger/IGLA sites can easily down one if it is out of flares, and Support soldiers can lay down fire upon them, as can any heavy or mounted machine gun. The pilot should make good use of the UAV before going into an enemy control point to spot threats and take them out.
Battlefield Play4Free
Edit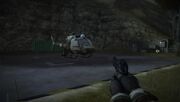 The
Z-11W
is featured in the map
Dragon Valley
. It has high maneuverability, fast speed, and decent firepower. It spawns when the B flag is held by the Russian Army and is the Russian counterpart of the American
MD530 Little Bird
.
This helicopter is equipped with Miniguns that are effective against infantry, light vehicles and other helicopters, but are relatively weak against armoured vehicles. Aside from the pilot, the aircraft can also carry two passengers, who have access to their infantry weapons and can fire from the vehicle. The pilot can also deploy countermeasures.
Battlefield 3
Edit
Z-11W
Vehicle health

500

Disable threshold

34%

Vehicle passengers

• Pilot
• Co-pilot
• 2 other passengers
(4 total)

Main weapon

Berezin UB gun pods

Main weapon damage

10-2 per shot

Main weapon rate of fire

2000 rounds per minute
(33.3 bullet each second)

Alternative weapon

Vympel R-73 (1200 points)
Kh-29 Kedge (24000 points)

2nd & 3rd passenger weapon

Personal equipment

Avionics

Air Radar (10000 points)


Sensors

Proximity Scan (7000 points)
Laser painter (40000 points)

Countermeasures

IR Flares (400 points)
Extinguisher (14000 points)
ECM Jammer (48000 points)

Vehicle maneuverability

High

Camouflages available

Stealth (2500 points)

Operators

Russian Ground Forces
"Armed military version of the Z-11 Chinese light utility helicopter."
— Battlelog description
The Z-11W is the Russian scout helicopter in Battlefield 3. It is similar in function to the AH-6J, essentially being the Russian counterpart of said vehicle, and comes pre-equipped with two Berezin UB gun pods. It can hold two passengers shooting their personal weapons and gadgets from the side seats, as well as another passenger in the copilot seat that cannot use their weapons, but after the Armored Kill patch can now laser paint for the pilot.
Specializations
Edit
Battlefield 4
Edit
This section is a stub. It is short and in need of expansion. Why not help out?
Z-11W

WZ-11

Vehicle passengers

• Pilot
• Co-pilot
• 2 other passengers
(4 total)

Main weapon

25mm Gunpod

Operators
The Z-11W returns in Battlefield 4, using 25mm gun pods with explosive ammo.
External links
Edit