Zip Line
Talk

0
1,957pages on
this wiki


This article is a stub. It is short and in need of expansion. Why not help out?
Zip Lines
are tools used in
Battlefield 2: Special Forces
. They are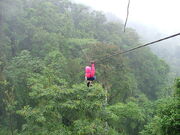 available to the
Special Ops
and
Sniper
classes of all factions. They are used to move from a higher point to a lower one over a longer range than jumping with a
Parachute
. When using one,
Right Mouse Button
activates a crosshair that displays either a circle or a cross within the crosshair. If the icon is a cross, it means the target is out of range. The
Left Mouse Button
is used to fire the Zip Line to the intended target. To zip down the line, press
E
.
The zipline can be retrieved after use with G. If it is deployed but not used for a certain duration of time it will disappear and will not be retrievable.
Sometimes targets that appear to be out of range can still be reached with the line.
Despite the fact it is a high powered crossbow with a large harpoon, the zipline cannot kill anyone. Shooting someone with the zipline has no effect. Removing a zipline resulting in a lethal fall for anyone on it does not count as a kill for the player. There is, however, localization for a kill via the zipline crossbow, which simply lists the cause of death as "crossbow".